Vertical Blinds Sydney
The crisp, sleek simplicity and modern lines of vertical blinds should complement the décor of most homes and offices. Our vertical blinds offer an amazing range of over 300 colours, in a fascinating variety of patterns and textures to enhance any environment.
These vertical blinds can be drawn to the left, right or centre and the slats turn through 180 degrees, giving the owner choice in terms of light exposure and climate control.
Our systems and components are manufactured by our own specialists to exacting quality standards, and covered by comprehensive guarantees.
Features and Benefits of our Vertical Blinds
Economical solution for large windows, particularly sliding doors
Vertical blinds complement other window treatments
Range of vertical blinds blade widths available – 89mm, 100mm & 127mm
Match your drapes with a coordinated track/pelmet, with or without fabric insert
Chained, chainless and sewn in bottom weight options available for these vertical blinds
Roman Blinds
Add the designer touch to any room with the soft fabric folds of Roman blinds. Roman blinds provide a contemporary look and feel with a large range of translucent, light filtering fabrics in fashionable tones and textures, incorporating block-out fabrics for greater light and privacy control. Roman blinds are flexible enough that they can cover vast or limited areas and their style makes an excellent covering for sliding doors, angled windows, skylights or glass roof areas. Light and easy to operate, Roman blinds look fantastic when they stack.
Choose from bungalow style with extruded "aluminium battens" for that traditional Roman blinds look, or feature stylish homestead design with "timber battens" in woodgrain or painted finishes.
Operating options for Roman blinds includes the traditional corded system with "cord lock" or a continuous "chain drive" system which removes the cords. A tensioning device is installed with all Roman blinds to enhance your child's safety.
Features and Benefits of Roman Blinds
Roman blinds offer privacy during the day and the night
Economical choice
100% light block-out with Roman blinds
Our light filtering fabric offers partial light block-out and is available in natural canvas
Our sunscreen fabric blocks out approximately 90% of UV rays and reduces heat by up to 30%
Roman blinds are good insulators
Easy to wipe clean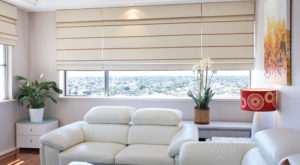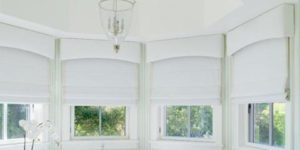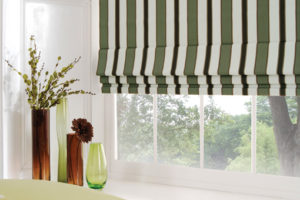 Aluminium Venetians
Aluminium venetians are simple and stylish, providing a timeless design that suits many decorating styles. These blinds provide excellent control of light, temperature, ventilation and privacy.
Timeless, Functional Design
Aluminium venetians are stylish, providing a timeless design that suits many decorating styles.
They are highly functional for heat and privacy control. Dust can be easily brushed off using a clean, soft cloth, duster or vacuum cleaner with a brush attachment.
Quality Design, Range and Options
They are available in many different colours and special finishes.
An auto-tilt option is also available, allowing tilting of the slats via remote control without the expense of full tilt-and-raise motorisation.
A unique clutch system prevents damage to the tilt mechanism caused by overwinding the tilt wand.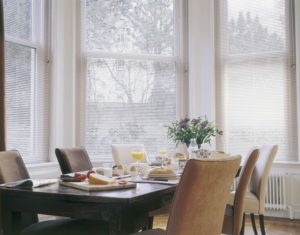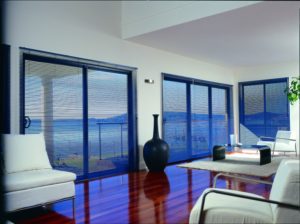 Timber Style Venetians
Timber style venetians are the practical and affordable alternative to blinds made of real wood. Manufactured using advanced polystyrene polymers, Timberstyle is resistant to cracking, peeling, discolouration and warping.
Timberstyle is ideally suited to Australian heat conditions. Unlike its timber counterparts, Timberstyle has no variation in colour and texture, and is completely washable with no need for refinishing.
Perfect for bathrooms and ensuites, slat widths are available in 50mm or 63mm in a fashionable range of colours. Timberstyle offers two valance styles for that finishing touch.
Breakaway tassels for child safety are designed to separate should a child become entangled in the cord loop.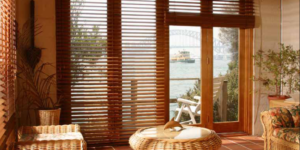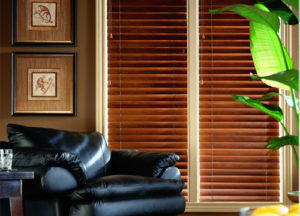 Cedar Venetians
Cedar Venetians are a very popular, long lasting, multi-functional window furnishing. With the feel and texture of natural timber they create a warm and inviting ambience with their own distinctive touch of class. Extensive research has shown that the North American softwood, Western red cedar, is the most suitable timber for use in venetians, ensuring durability and allowing your products to last.
Our cedar venetians are all hand assembled by experienced blind makers, with time and care taken to colour code all slats to ensure the blind colour flows accordingly, unlike many other manufacturers who use machines to thread slats. Cedar is a light weight, stable timber which is not prone to warping or splitting. They provide great air and light flow as well as thermal and acoustic insulation properties. Its porous structure insulates against the summer's harsh radiation and maximises heat retention during winter.
Slat sizes available – 34mm; 46mm; 60mm and 85mm
Finishes Available – oiled; lacquered; stained or painted (colour matching/custom paint also available)
Standard Features – 4mm thick slats; timber acorns; colour matched buttons; choice of standard (flat) or deluxe (moulded) fascia; mitred returns; heavy duty 17mm base rail; quality components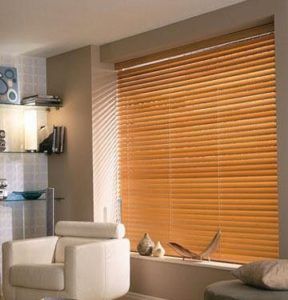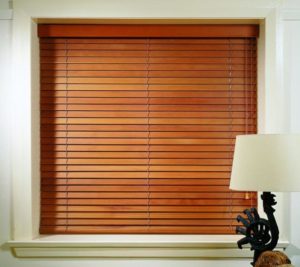 New-Tone
New-Tone is a pre-coated Western red cedar product with a limited range of slat sizes and finishes. The lacquer finish is a revolutionised product that has been specifically designed for Australian conditions. The UV lacquered curable coating offers the best protection against fading in Australia, whilst the unique toning process adds beauty and uniformity throughout the blind. New-Tone is also available in a painted finish for a clean, contemporary look. For something a little different look at our Roman blinds.
Slat sizes available – 46mm or 60mm
Lacquer finish available in light, mid or dark
Painted finish available in white or antique white
Standard Features – 4mm thick slats; timber acorns; colour matched buttons; choice of standard (flat) or deluxe (moulded) fascia; mitred returns; heavy duty 17mm base rail; quality components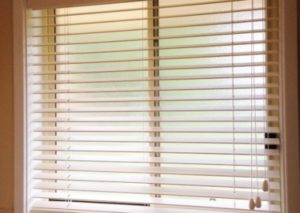 Holland Blinds
Holland roller blinds are available in a various assortment of fabrics, colours, and trims.
These include; light filtering/ transparent, sheer and block-out.
You can select from a light filtering material which allows light to come through, yet still maintain your privacy. You cannot see the view outside and people cannot see in, yet you still have the light coming through.
Sheer fabrics are decorative fabrics that are attractive and effective if privacy is not an issue.
If you were after a view and sun protection, then sunscreen rollers are the best alternative. With this product, you must consider that during the day, sunscreen rollers offer privacy from people looking in, while you experience a clear view looking out. However, this is reversed during the night, allowing people to see in while you cannot see out. A strategy to resolve this would be to have double blinds, with one being sunscreen roller for use during the day, and a block-out roller to use at night.
Holland blinds are also available in block-out fabrics to offer complete privacy and block-out from the outside.
After choosing a fabric to suit your needs, you can then decide on a trim for your décor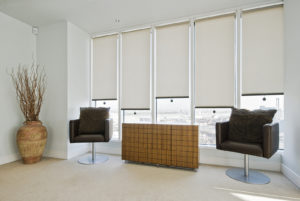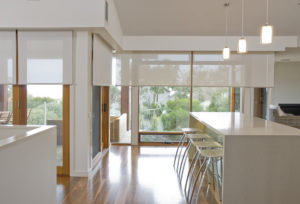 Sunscreen Roller Blinds
The natural light of the sun plays an important role in architecture. Shining through a window, the light gives us a feeling of life and space, it can be playful, warm and pleasing. But sometimes it can be excessive, dazzling, or too hot.
To enable the sun to make a positive contribution to the quality of our living space, sunscreen rollers offer a solution for every situation. When the sun's heat becomes too intense, we can lower the blind which can be moved away again when the sun disappears. The fibreglass fabric takes the heat out of the sun before it hits the glass, by reflecting and absorbing radiation. At the same time, the view from the outside remains intact and daylight continues to enter the room virtually unobstructed.
Features and Benefits
The glass fibre is indestructible, rot free, antistatic, anti-allergic, non-flammable, maintains its shape and requires minimum maintenance
The different types of fabrics have different weave densities
The glass fibre is UV resistant, and after years of service it looks just as pristine as on the day of installation, blending harmoniously with any interior décor
Good looking and durable, making it the ideal sunscreen from every point of view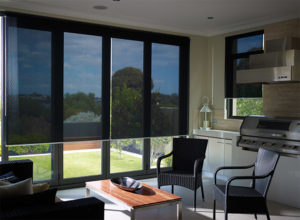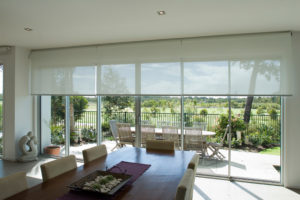 Lumen Blinds
Lumen blinds, a stylistic contrast to vertical blinds, are the revolutionary new roller blind which allows you to maintain your view while protecting your privacy. It combines a stylish curved fascia with chain control. Through its ability to alter the amount of sunlight during the day, or provide the opportunity of a closed blind, is very like vertical blinds, Lumen blinds enable and enhance the protection and privacy of your home or office.
They're an innovative new window furnishing design that combines two independent layers, each with sheer and opaque horizontal strips. When the sheer strips are exposed, you have an open, light-filled, but still quite private, room. Vertical blinds, however, do not give you as much flexibility.
Lumen blinds may just be the innovation that takes home and office window furnishing one step further. The unique bottom rail mechanism promotes smooth and effective operation. This remarkable new blind also offers you UV and heat protection.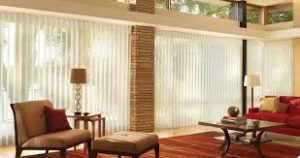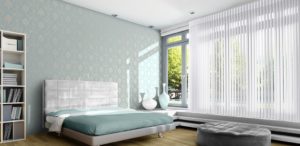 Panel Blinds
Panel blinds are a modern favourite for sliding and bi-folding doors, and they also make a stylish room divider. Available in a wide range of colours, panel widths and fabric types including natural, screen and woven. Panels are strong, functional and stylish and have become increasingly popular as an alternative to more traditional window furnishings such as vertical blinds. The unique track system used in panel glides ensures effortless day-to-day operation. They can be free-floating or connected, and can be stacked left, right or split draw. You can also easily remove the panels for maintenance or to change your look from season to season.
Choose from a range of panel widths – from 300mm to 1000mm, or have our manufacturing facility calculate the most economical width for the window or door you're covering. If you want something very different from the traditional vertical blinds, go for the panels.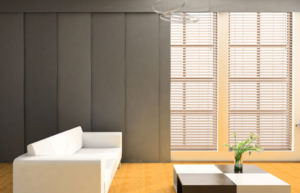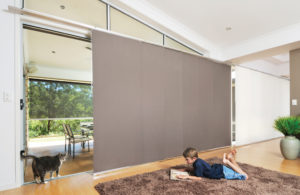 We Install Roman Blinds, Vertical Blinds and other Window Treatments
Whether you are looking for vertical blinds, Roman blinds or a different window treatment, the team at Sea Breeze Blinds & Shutters can provide the best installation for you. Call today for more information.